Where does one get away when they need a break from stress? No vehicle or app will navigate one to a destination titled "relax and re-set." However, you can navigate to the beautiful Hill Country for a stay at the newly renovated Hyatt Regency Hill Country. Nestled amidst the serene Texas Hill Country, our visit was destined to be the perfect escape for us to spend some one-on-one time.
As we approached the majestic Hyatt Regency Hill Country, the Texan sun was setting upon the sprawling 300-acre property. Towering oak trees lined the path to the entrance, and we glanced around, watching for deer roaming the area before dark.
Checking in was a breeze, thanks to the attentive, friendly staff who made us feel like VIPs. We were handed a map of the resort, and as we made our way to our suite, we embraced the peaceful setting.
Our room was a sanctuary of comfort with plenty of space; the suite is 599 square feet. The renovation transformed it into a haven of modern luxury, featuring a cozy king-sized bed and a 65′ smart HDTV, a spacious bathroom with a rainfall shower, and a private balcony surrounded by large oak trees.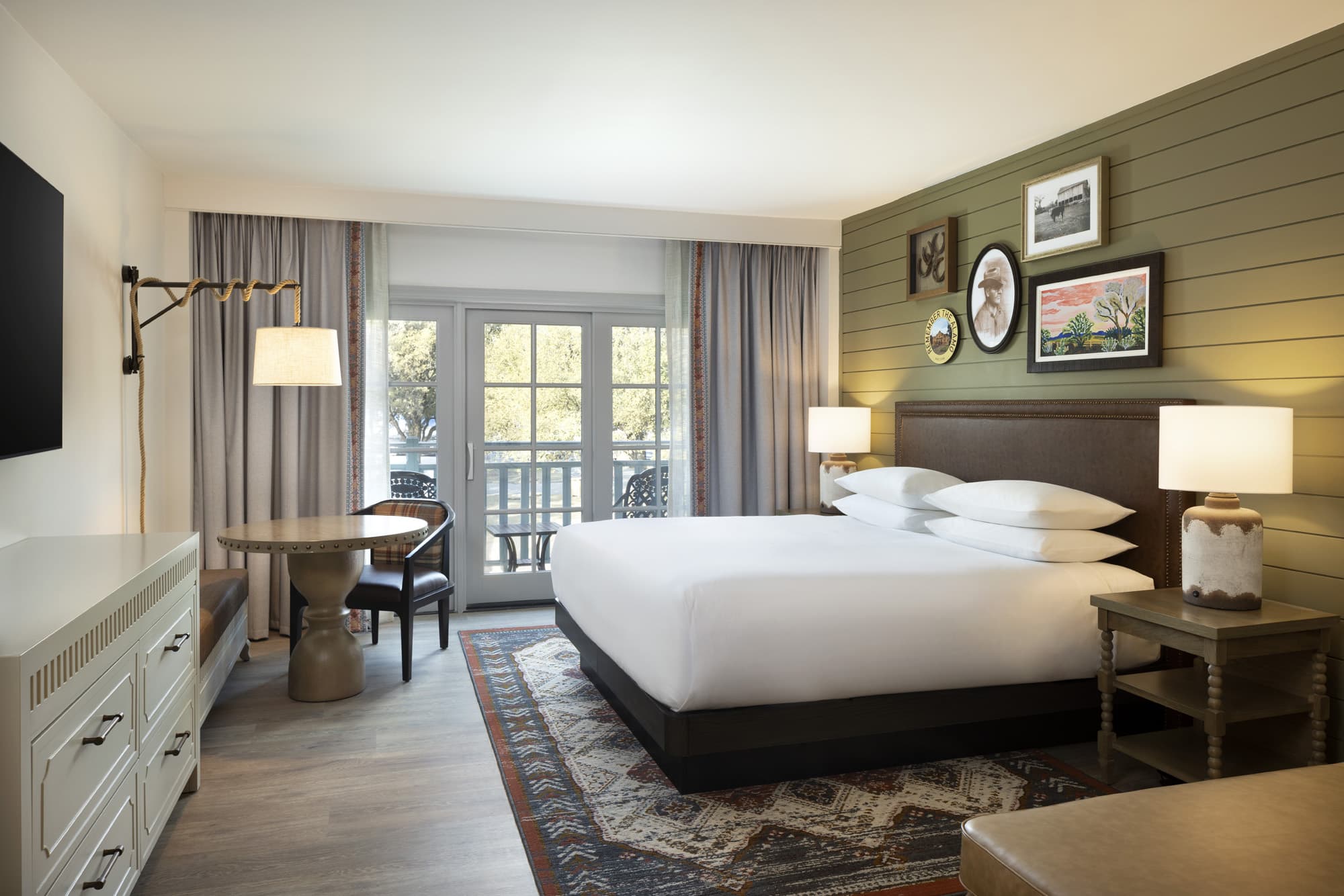 The room's design is highlighted by earthy tones and Texas ranch inspired décor that exudes warmth and charm. Our suite gave us plenty of room to spread out, from the large dining table to the comfy sofa, but the balcony was the perfect spot to sip our morning coffee.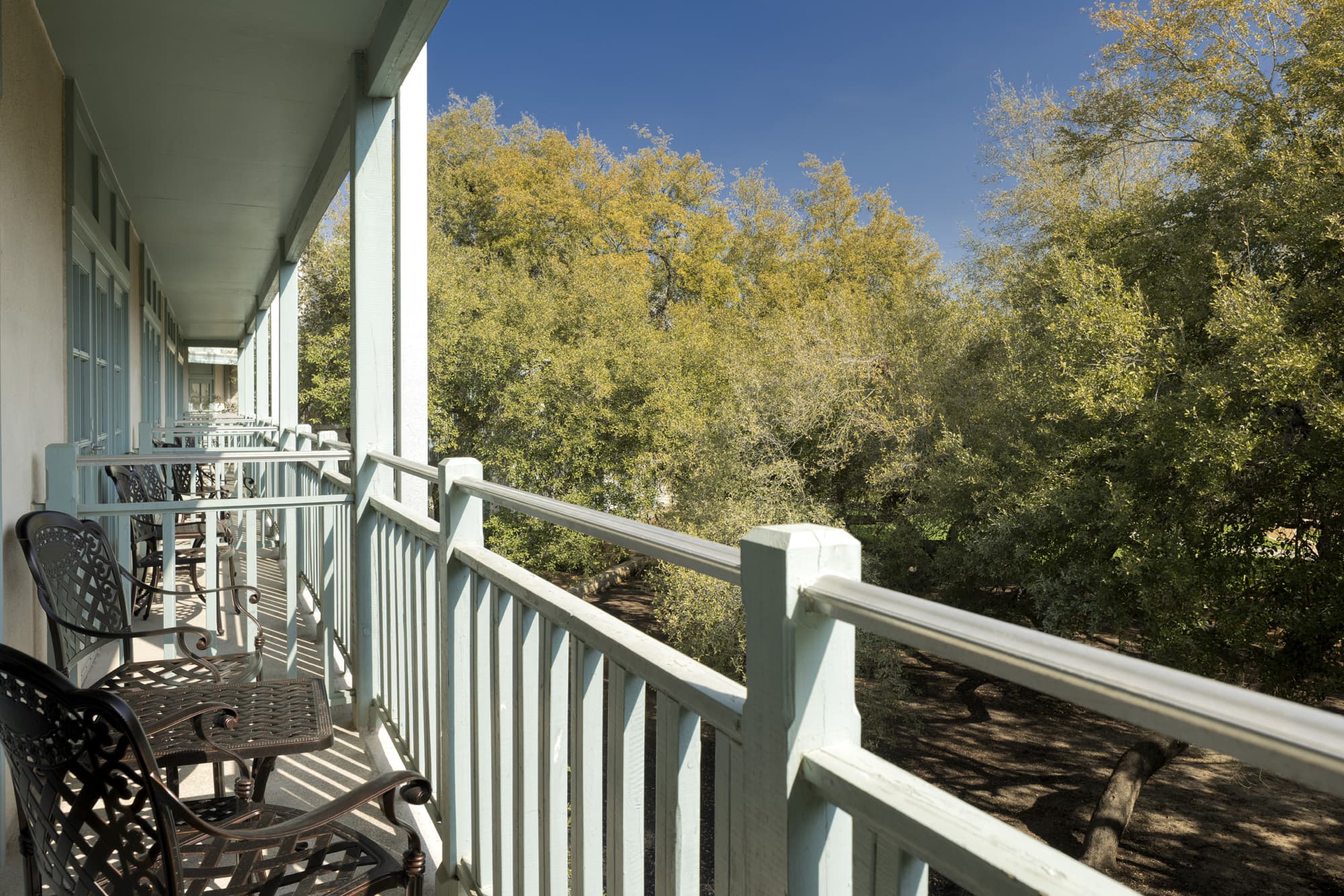 A bit worn out by our five-hour drive to the resort, we decided to order a pizza from a local restaurant and catch up on work. But, with five different restaurants on-site and a gift shop, there are many options for breakfast, lunch, dinner, or grabbing a snack on your way to the golf course.
If time had allowed, we would have booked a visit to the Windflower – The Hill Country Spa. There's nothing like a rejuvenating spa treatment to leave you feeling utterly pampered and refreshed. However, while we'd left DFW behind, we couldn't escape work. So, we spent the afternoon working on the newspaper while looking forward to our dinner reservation at Antlers Lodge, the resort's fine dining restaurant.
We were seated by the window with a view of the golf course, and our server, Melissa, welcomed us with a warm smile. The menu was a delightful blend of Texas flavors featuring wild game like the wild boar meatballs and wild game charcuterie board.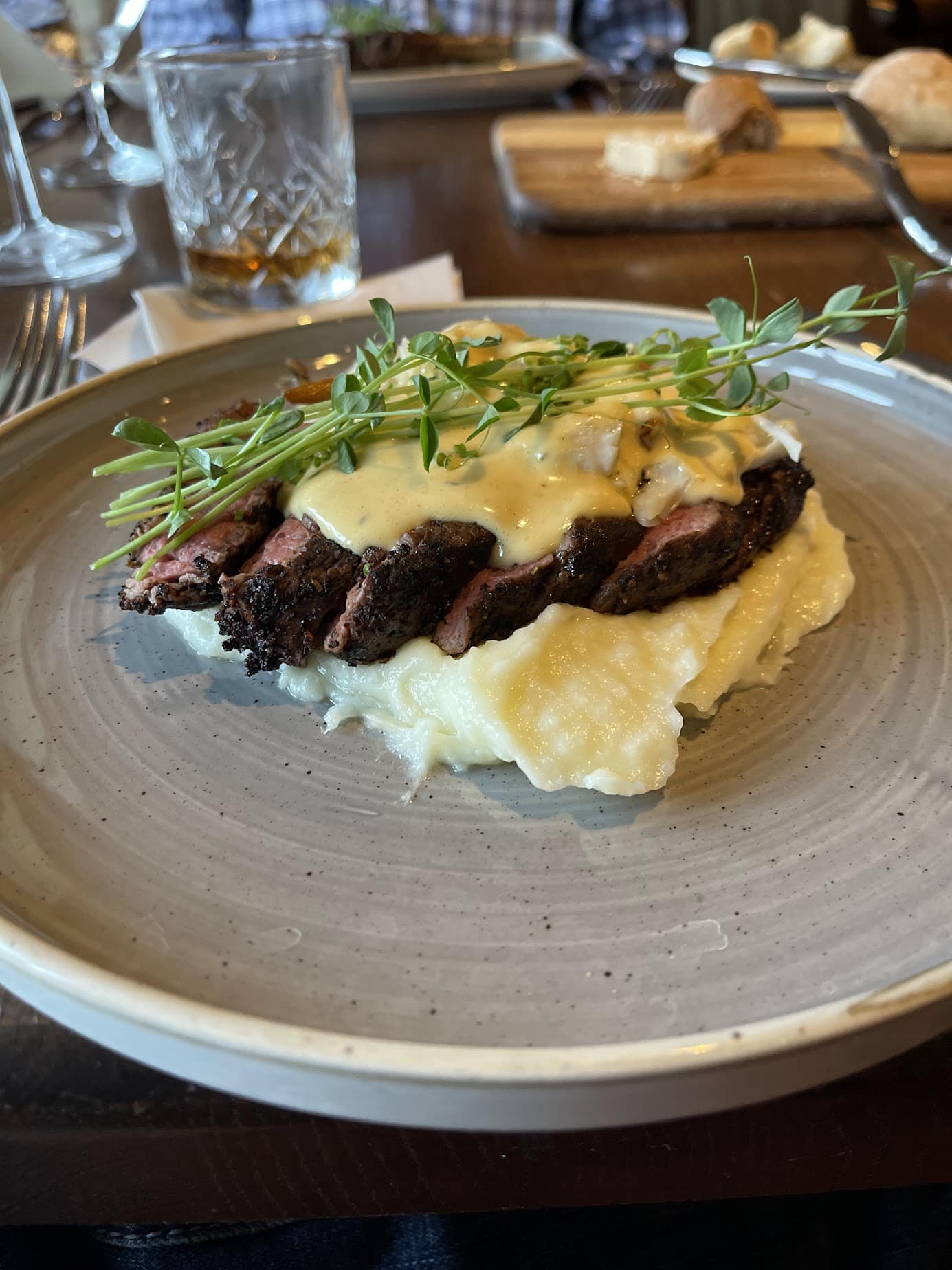 For our main course, I savored the Bison Filet Mignon Oscar, a masterpiece of perfectly cooked meat topped with succulent crab and béarnaise sauce, while my husband relished the Bone-In Ribeye, cooked to perfection. Melissa's attentive service and recommendations added a personal touch to our dining experience.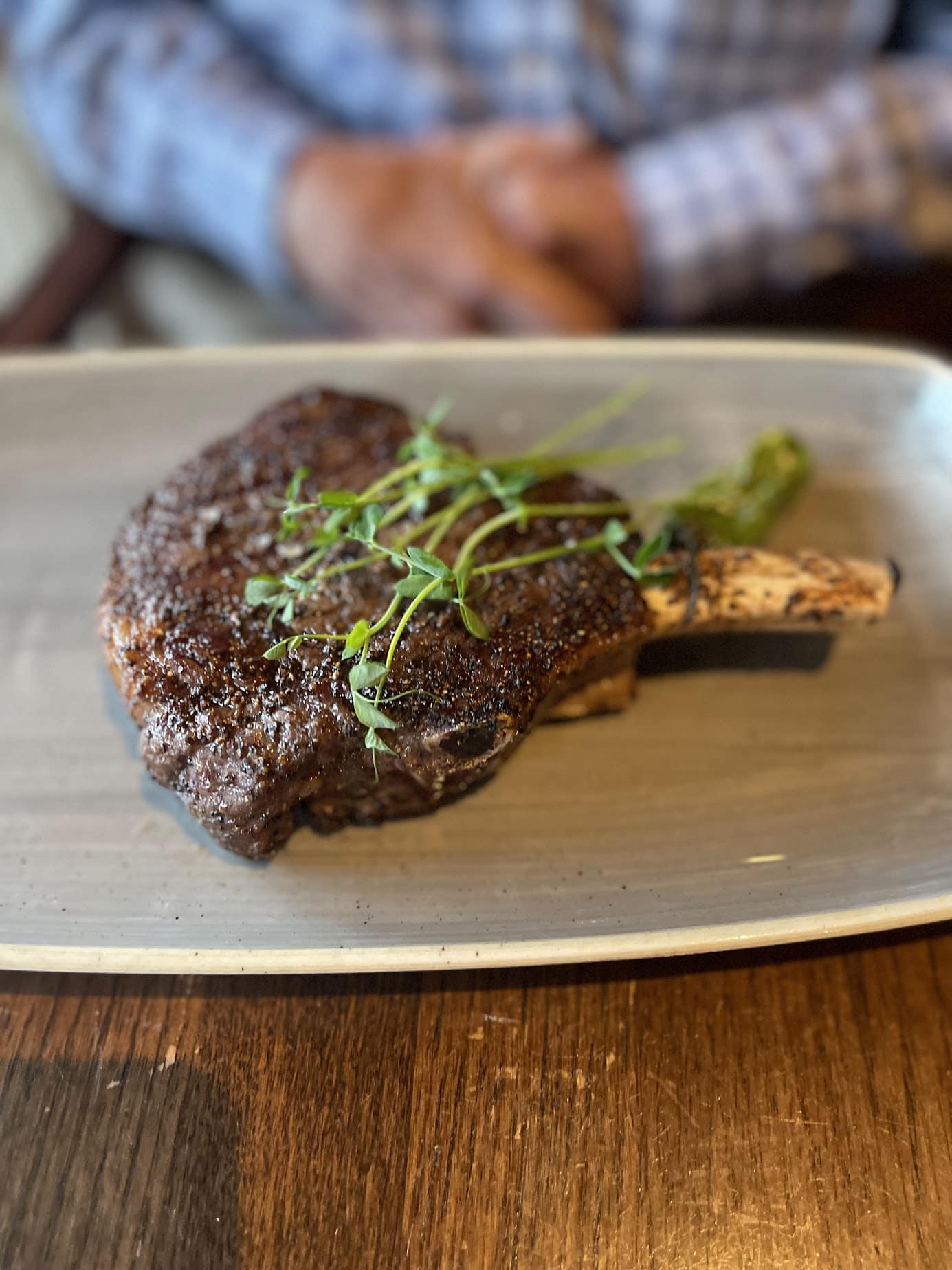 To end our culinary journey on a sweet note, we indulged in the delectable Sticky Toffee Pudding. Each bite was the perfect blend of rich toffee and moist cake, a dessert that left a lasting impression.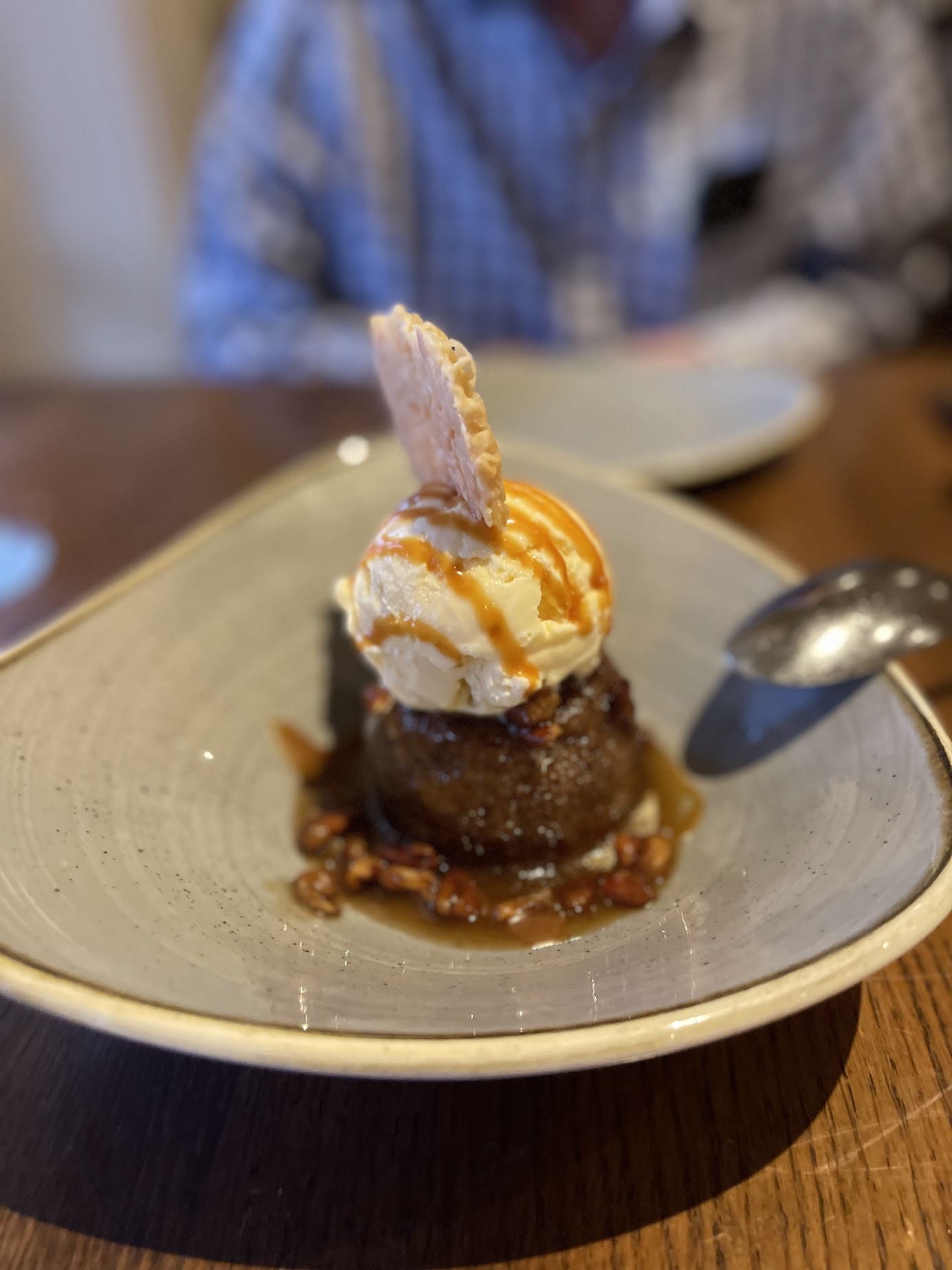 As we walked back to our room along the winding paths after dinner, we saw a few families at the Fire Pit Pavillion, roasting s'mores over the crackling fire. I'm not sure which one of us said 'we should bring the kids', but it's clear the Hyatt Regency Hill Country is not just a retreat for adults; it's also a paradise for families. While our visit was on a Wednesday & Thursday evening, the Ramblin' River, a lazy river meandering through the resort's grounds, had more adults than children enjoying a leisurely float. I'm sure by the weekend it was packed with kids and their parents, splashing, laughing and making memories.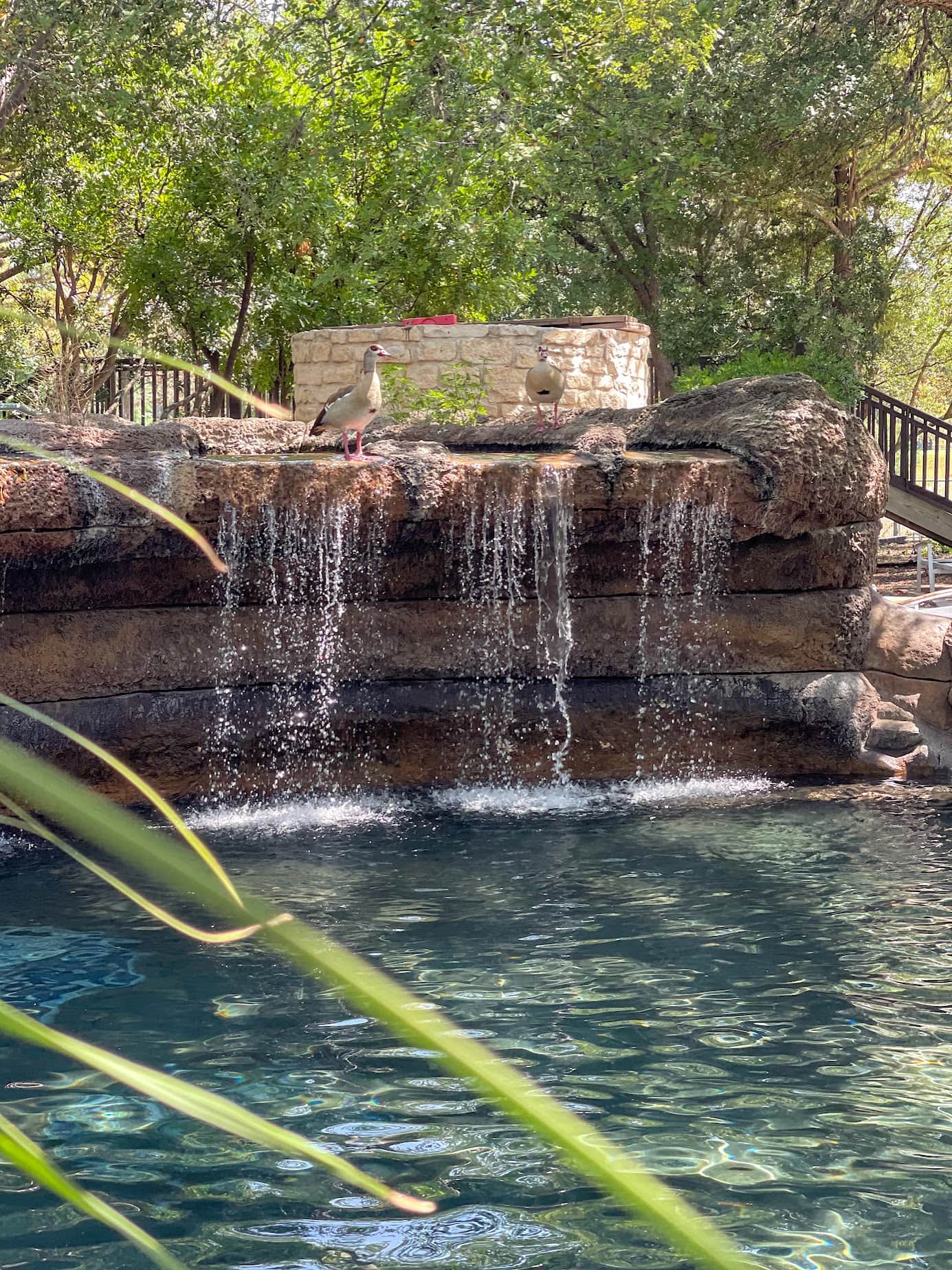 While the Hyatt Regency Hill Country offers the perfect atmosphere to relax and enjoy the Hill Country, the location is also ideal for anyone wanting to visit SeaWorld or explore more of San Antonio. The resort was the perfect spot to escape our kids and dogs for a couple of nights and reconnect.
The Hyatt Regency Hill Country hosted our stay. We've shared our thoughts based on our personal experience during our recent visit.
The post Escape to Serenity: Discover Relaxation and Luxury at Hyatt Regency Hill Country in the Heart of Texas Hill Country appeared first on Focus Daily News.